BONLAB is a life tool brand that proposes "good technology, good design, good life". We pursued what is the ideal walking stick and developed it with our design philosophy that helps the movement of the body.  It is a new walking stick that is fashionable and comfortable.
A long time ago "glasses" was a negative tool for the elderly and the people with weakeyesight. Now it is used as a fashion tool for many generations. The  BONLAB walking stick of  is exactly developed with the aim of being like a "glasses".
The BONLAB brand walking stick will wipe away the negative image for such as old age persons and foot injury. And we wish to realize the society where everyone can walk with a cane without hesitation.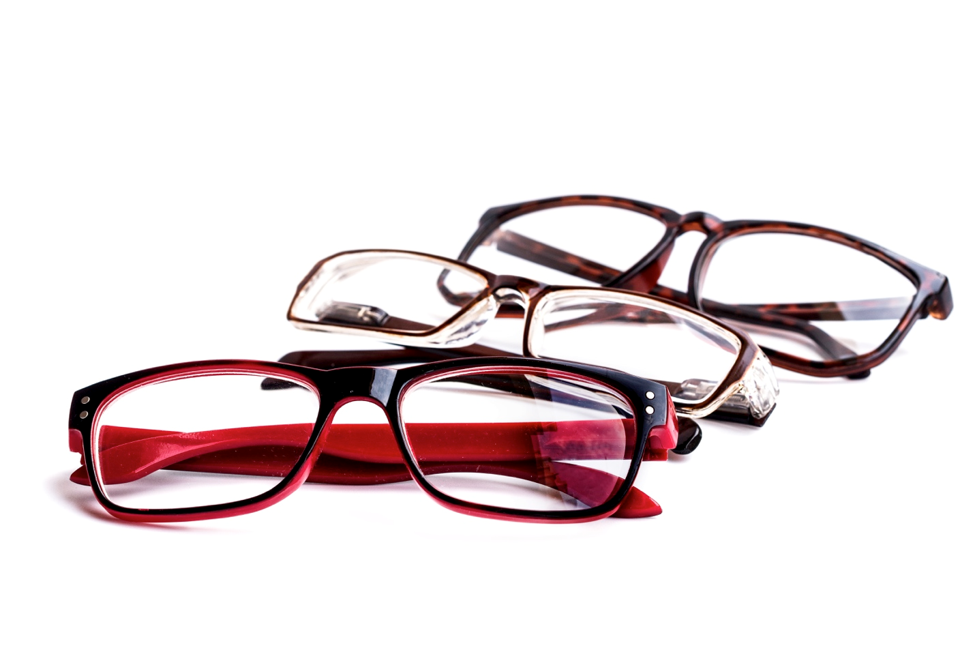 FUNCTION
Functional features
Place your hand on the grip, do not hold.
The grip of a BONLAB walking stick has a unique shell form and structure that receives the palm of your hand on a large area, stabilizing the grip with only a small strength. It's a new idea that allows you to take a firm hold of the ground with only a light push, effortless even for people with small grasping strength.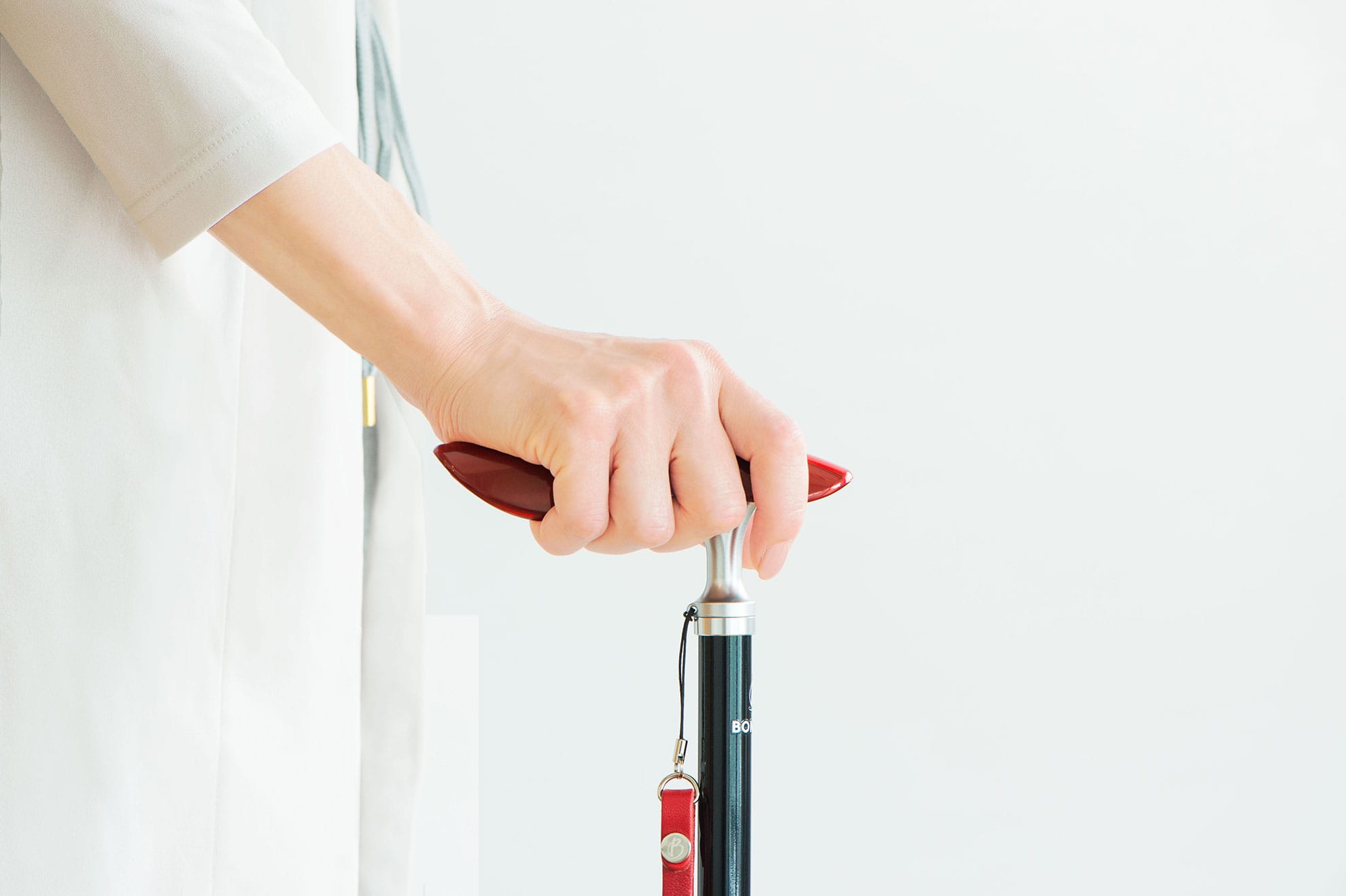 The grip with light touch reduces stress on the hand, arm and shoulder, is giving a good feel for the user. The thin grip and grip cover shell fits the natural curves and movement of your hands. So it is made by polycarbonate material which combines lightness and durability for safe and comfortable use.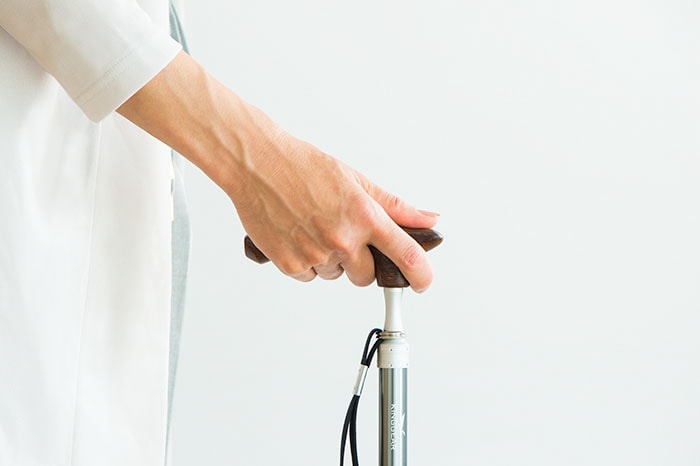 Other brands: Common walking stick grip forms forces the user to grip upward from beneath the grip, a position easily shifted to a painful clench.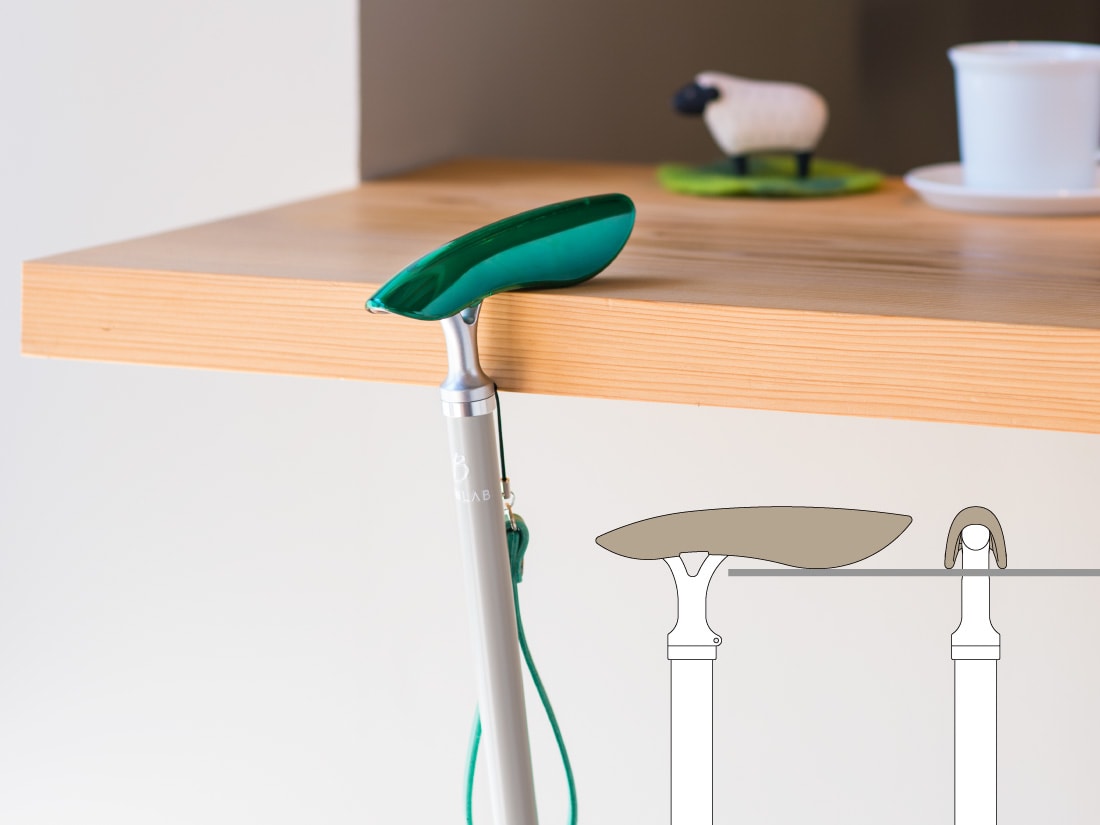 Rests on the table edge on two points
The grip and shell cover are both shaped like a bicycle saddle, allowing them to stabilize on two points when placed on the edge of a table or counter. A useful feature that lets it rest on the edge of a café table or shop counter.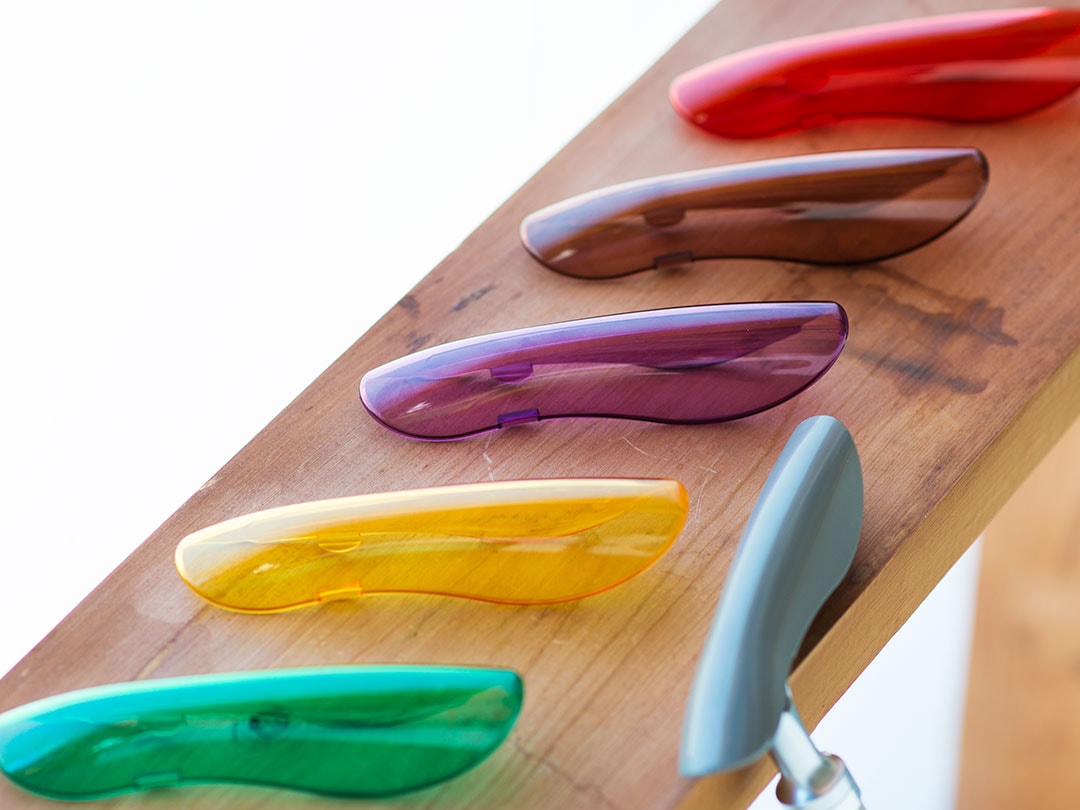 Please install the shell of your favorite color.
The grip has colorful covering shells, which you can buy separately. A maximum choice of 20 different combinations is possible. Looking for a favorite coordination, please enjoy BONLAB walking sticks. (4 shaft colors, 5 grip cover colors)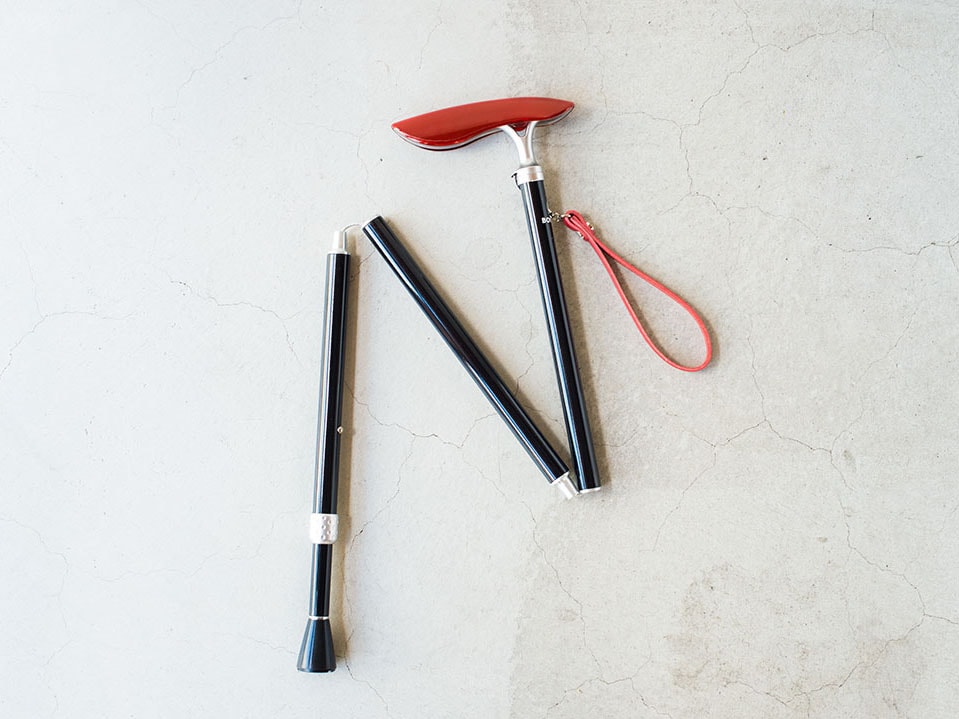 Folds and stays folded in your bag
The folding function employs a Pull-Stop Unit with an inner wire, which keeps the stick from slipping back into its unfolded position. Safe and easy to handle with a light strength.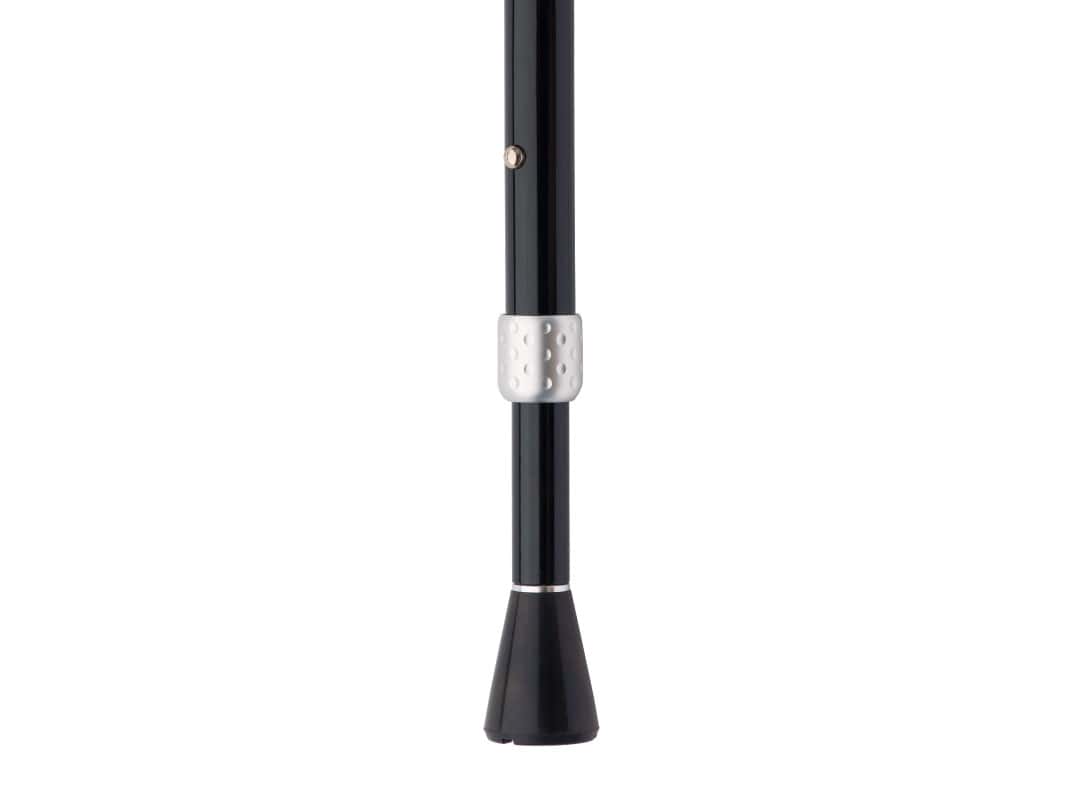 Irregular length adjustment for better fit user heights
Based on our analysis of height distribution of the Japanese population, the shaft length adjustment adopts our original irregular pitch. Delicate adjustment is possible for users in the average height zone, allowing a better fit for more users. We also adopted a single visible adjustment hole, making the manipulation simpler and smoother. With anti-turn guide.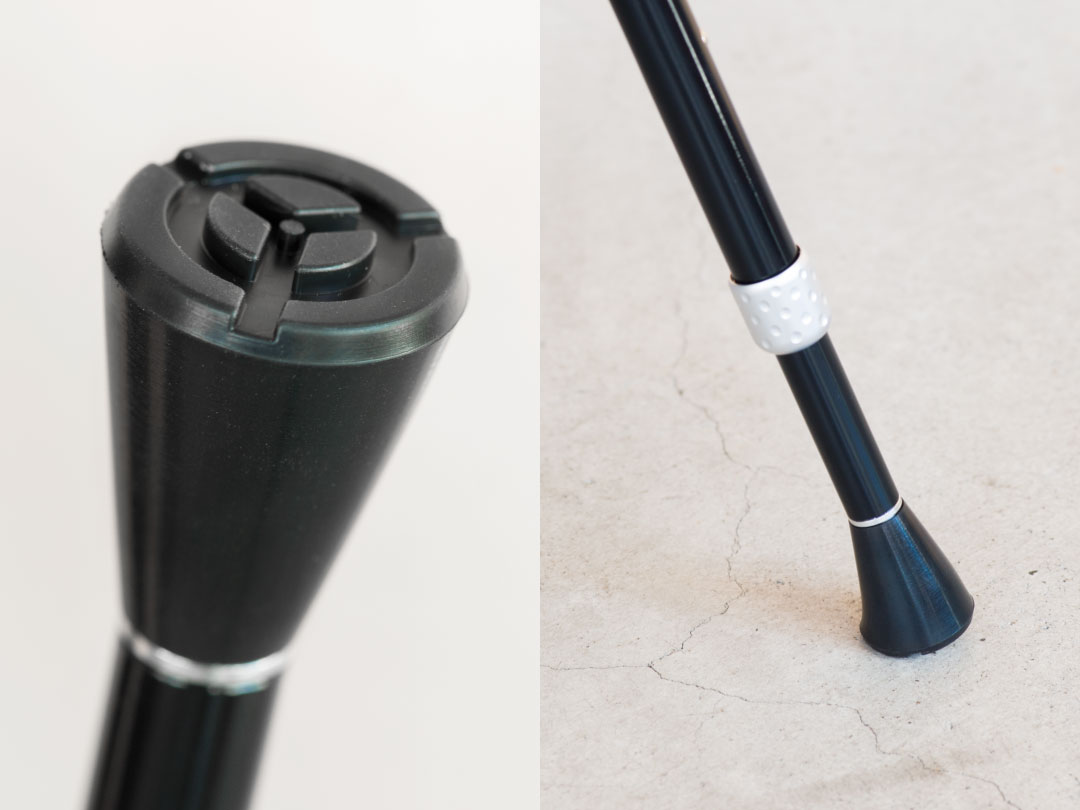 A new function of stick tip
The tip material is a rubber with adequate firmness and viscosity, and it is designed from the study of walking movements. It is secure a stable hold of the ground at different angles, producing a pleasant walking rhythm.
【Characteristic】
① Grip was designed with its own design philosophy and wiped out the concept so far and made it possible to imagine that even weak grip strength advances forward. With a shell structure that receives hands on a wide surface, you can lightly push the ground and walk. Since it does not grasp the grip strongly, it can be used without putting an extra burden on hands, arms and shoulders.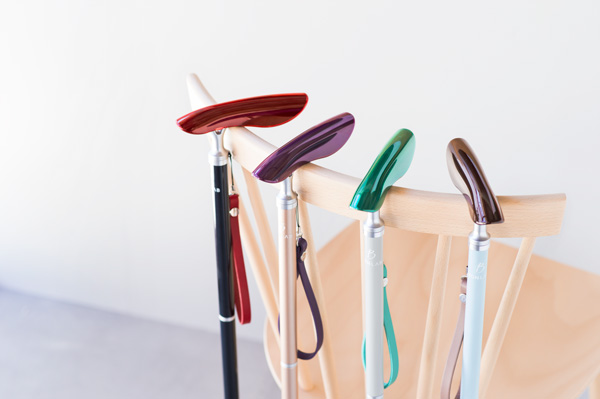 ② Magnesium alloy was adopted as the shaft. Magnesium is the lightest among practical metals, and it can be used with confidence because metal is high in comparison with aluminum and iron in a wide field such as specific strength, specific rigidity, dent resistance and heat resistance. The vibration absorption rate was also the highest among practical metals and pursued a feeling of comfort.
③ The original ratchet mechanism adopting the irregular pitch of original analysis according to the distribution of height makes it possible to adjust the height to the user's height compared with a general cane by expansion and contraction. Moreover, it adds a rotation prevention guide with one visible adjustment hole and realizes a beautiful form that is complicated and cumbersome adjustment is functional and simple.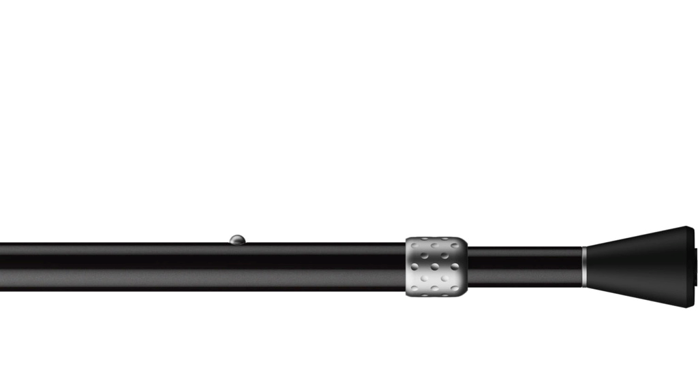 ④ Polycarbonate over grip is attached to grip, it can be replaced according to TPO by choosing the color of your choice. Coordination according to individuality will increase affection and will make going out easy and fun.
⑤ The folding function adopts a pull-stop unit that can hold the folded state. There is no turning back even if you remove the frame, and it will not fold back supple and spread in the bag. It is highly safe, even those with weak forces can operate easily and there is no danger of pinching your hands.
⑥ Since the grip of the saddle structure is grounded at two points on a tabletop such as a desk or a cash register, it can be stood on stably.
⑦ By fitting the joint parts to the connection part between the rubber tip and the shaft of the cane tip, a sense of unity is born at the feet, realizing a beautiful form. In addition, the cane tip rubber is made with BONLAB original, has moderate hardness and stickiness, soft comfortable feeling and grips the ground more safely.
⑧ Enjoying individuality Coordinating grip color and neutral color development of the shaft is gentle, light and fashionable like a bicycle.
【the purpose】
Medical-related product design is less maturing than other fields, and there are few things that satisfy user's demand. From the viewpoint of universal design, BONLAB creates new value consciousness in the cane industry through the development of high-design products combining functionality and fashionability that satisfy the mind.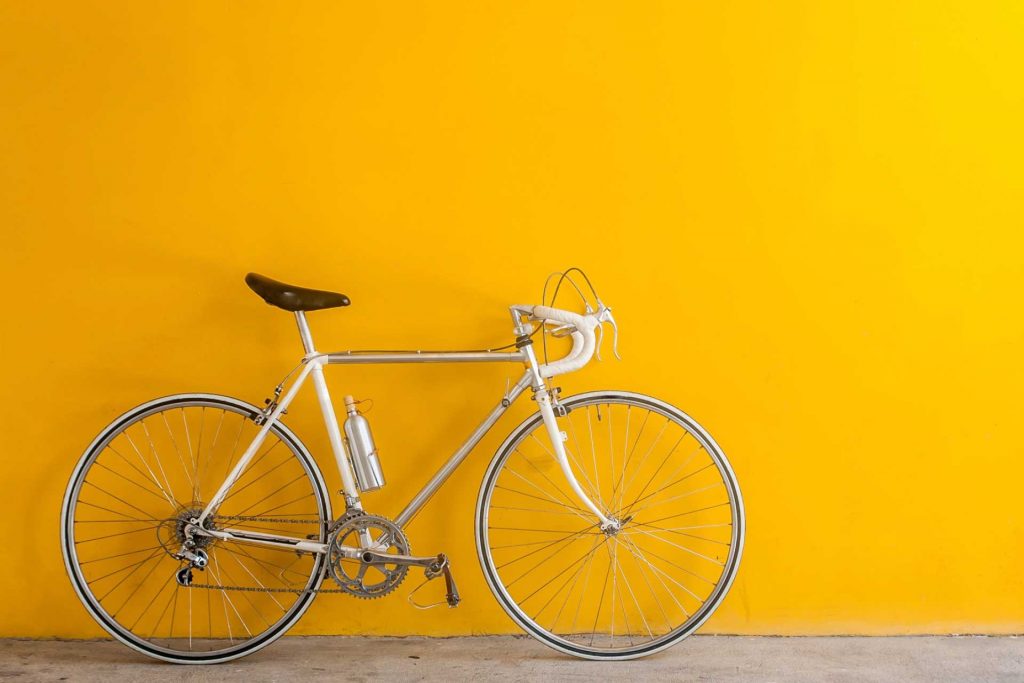 【background】
It is indispensable for maintaining self walking to suppress nursing care burden. In that sense also, we hope that elderly people and disabled people who are uneasy about their legs are not locked in the house, but by proposing a tool that makes going out fun, we can extend the healthy life as much as possible. Even if you feel uneasy about your legs, there are many examples of muscle weakness from falling due to hesitating to use the cane, difficulty walking, and it is considered effective to use an appropriate wand to reduce fall accidents. There are many cases that refuse to use a cane. The reason for refusing to use a cane comes from the unique net questionnaire and individual visit questionnaire, "It is embarrassing", "I do not want to be seen in the elderly", "There is no cane that matced me" and "Out of style. Based on the "importance of heart satisfaction" derived by inclusive design, we promoted development that made use of the user's voice and thought that we need to change the image of the cane with unprecedented functionality and fashionable design .